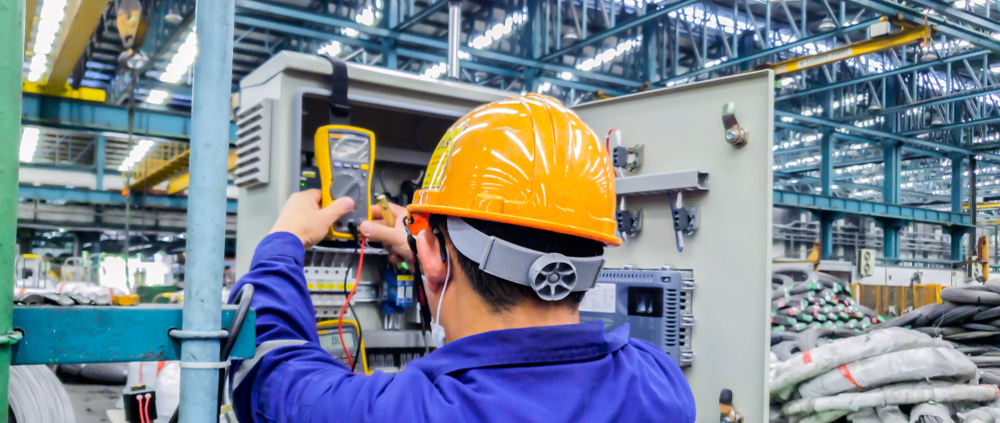 Want An Easy Fix for Your Hard-To-Hire Electrical Maintenance Jobs?
Introducing Total Productive Recruiting
When it comes to finding talented candidates for electrical maintenance jobs, you've hit a brick wall.
You've tried advertising on online jobs boards, and just received hundreds of unsuitable applicants. A waste of your time and resources, and highly demoralizing.
You've tried attending jobs fairs – that was an expense that proved futile.
And you don't have the resource or budget for direct recruitment strategies to be successful.
You did once find the perfect candidate, but when you made the offer, they had already accepted a job with a competitor.
So, what's the answer?
Why Is It So Hard to Find Electrical Maintenance Talent?
There is a skills shortage in the electrical maintenance field. The Bureau of Labor Statistics has forecast that there will be more than 66,000 new jobs created for electricians by 2030.
And right now, with the economy recovering from the battering it took because of COVID, demand for qualified staff is running as hot as we can remember.
Add into this that those in jobs are being offered extra pay, perks, and benefits to remain with their current employer, and you'll understand why it is so difficult to hire talented electrical maintenance employees now.
The Answer? Employ a Specialized Staffing Agency
The process of hiring for skilled and qualified staff is a complicated and tedious task. It requires market research and careful selection so that you hire the right person for the job. If you don't have this experience in-house, you will suffer in what has become a very tight labor market.
A staffing agency can be a valuable tool for hiring skilled and qualified electrical maintenance engineers. They can provide access to skilled and qualified candidates at scale with minimal work on the company's part. Their professional recruiters use their experience and connections to locate and attract passive candidates to your roles – the very best people in the field who never search for their next position via online jobs boards.
What Does a Staffing Agency Do?
A staffing agency helps companies find employees, not just on a one-time basis but also on a continuous basis.
They help with the whole process of finding and hiring new employees. This includes understanding your needs, wording of job descriptions, finding candidates, screening them, interviewing them, and presenting the best to you. They will match the right skillsets of job seekers with your needs.
They can also give advice on the current jobs market, salary expectations, and how to sell your job to your preferred candidate so they don't accept elsewhere.
How to Get Started with Hiring for Electrical Maintenance Jobs from a Staffing Agency
You should always conduct your own research before hiring a staffing agency. The key is finding a reputable company that has proven experience in finding electrical maintenance jobs for its clients.
You want an agency that's been around for a while and has been able to provide consistent results throughout the years. One way of doing this is by looking at their client base – you want an agency with many repeat clients.
You should also consider the experience and qualifications of the agency's recruiters, the communication they provide with their clients, and the locations and industries in which they operate.
Ask about their pricing structure and how they charge for placement fees, background checks, and so on.
Welcome to Total Productive Recruiting (TPR) from MAC Inc
Our success is based upon performance, reliability, and trust. We are always striving to serve our clients more effectively and efficiently. We have applied lean principles to our internal recruiting processes for engineering, maintenance, and operations management. The outcome is Total Productive Recruiting (TPR) – a faster, better, and smarter method of labor acquisition for our clients.
You'll find that our processes are constantly evaluated on a client-by-client basis – we understand that there is no one-size-fits-all solution in staffing. We provide the flexibility you need in your staffing and recruiting process, with cost-effective hiring solutions that enable you to achieve your performance goals.
Choose MAC Inc and benefit from an easy fix for your hard-to-hire electrical maintenance jobs, with results that include:
Sustained desired performance levels
Increased hiring flexibility
Reduced overtime and opportunity costs
Accelerated time to hire
Optimized productivity
Cultivation of talent
To learn more and discuss your recruitment and staffing needs, contact MAC Incorporated.
https://www.macttn.com/wp-content/uploads/2021/10/shutterstock_1469661527.jpg
561
1000
MAC Incorporated
https://www.macttn.com/wp-content/uploads/2019/02/Mac-1030x634.png
MAC Incorporated
2021-10-04 12:00:30
2021-10-07 12:24:02
Want An Easy Fix for Your Hard-To-Hire Electrical Maintenance Jobs?